Oh, Darling Facial $95
As Audrey would say, Happy Girls are the Prettiest. This treatment is for all skin types. It includes cleaning skin, steam, exfoliation and extractions. Finalized by a hydro jelly mask and a relaxing head to chest massage. Of course we won't forget to add serums, moisturizers, and SPF to leave you glowing.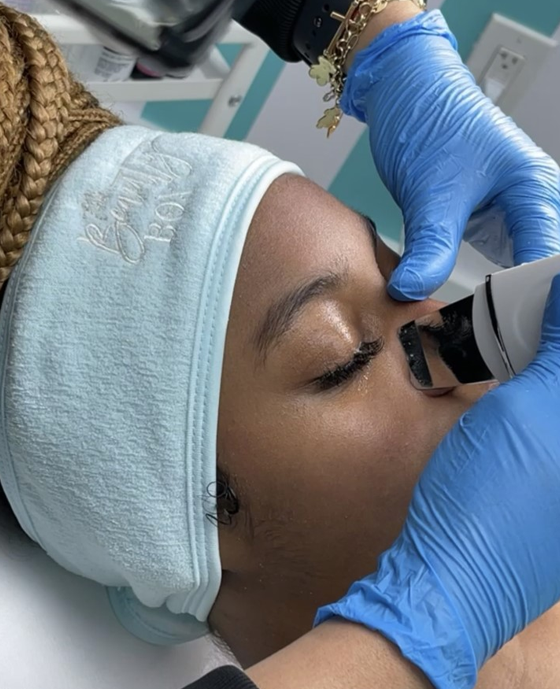 Dermaplaning Facial $140
For those of you looking to brighten your day and your skin tone while we are at it. We will use state of the art instruments to exfoliate and scrape away your unwanted dead skin cells and villus hair and No, the hair won't grow thicker. With just one treatment you can expect brighter, softer, glowing skin that screams out I'm Healthy! Your face will be smooth and ready for your next flawless makeup application. We will follow with a sheet mask made specially for your skin type while you enjoy a very well-deserved scalp, shoulder, chest & arm massage followed by serums, moisturizers and SPF. The day will be brighter the minute you walk out that door
Microdermabrasion $145
A technique used to exfoliate and renew overall skin tone and texture as well as reduce signs of aging. It can improve the appearance of sun damage, wrinkles, fine lines, age spots, acne scarring, melasma, and other skin-related concerns and conditions.
Timeless Facial (Microneedling) $150 / session
A skin tightening therapy. This treatment uses low energy radiation to heat the deep layer of your skin called the dermis. The heat stimulates the production of collagen and helps improve signs of wrinkles and sagging skin. RF is used for treating mild to moderate signs of aging. High Frequency, Red LED light therapy, and Hyaluronic Acid jelly mask included. For better results: 4 sessions are recommended.
Packages available: starting at $540 (4)